Many businesses both on and off line use newsletters to help stay in touch with their current customers and entice prospects. However, the work it takes to create a newsletter can be overwhelming, and they're often dropped because business owners don't have the time or resources to keep them going.
Newsletters and ezines are not only valuable marketing tools, but go a long way to develop trust between your business and your current customers.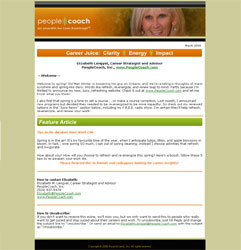 Email newsletters give online businesses the opportunity to capture email addresses, which gives them a solid number of people who are interested in the business and are good targets for future marketing campaigns.
Email newsletters can be sent either in HTML, plain text or as an attachment. Plain text is easy to produce and doesn't take up as much file space as an attachment. However, plain text isn't very interesting to look at and isn't very flexible when it comes to inserting hyperlinks or graphics.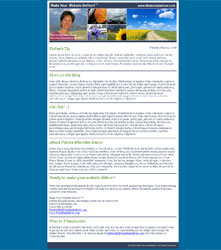 Using HTML gives you more options when it comes to layout, graphics and links to products or important information. HTML newsletters can be set up like print newsletters and are usually easier to read than straight text. The downside of HTML is that, unless you know what you're doing when it comes to coding, you can end up with a real mess.
Putting your newsletter directly on your web page has a few important advantages over the email variety. The first is that the newsletter can remain on the page for as long as you want, which gives that information virtually unlimited exposure. Another big advantage is that if information in one section becomes out of date, it can easily be changed to maintain the timeliness of the whole piece.
Also, web page based newsletters are more likely to be read because visitors can easily scan through the topics and read what interests them. Many email newsletters get trashed before being read because people simply can't tell if there's worthwhile information simply by the subject line.