What are QR Codes?

Lately, QR codes have become a common way to get people to check out your online advertising, or receive new offers. If you have walked by an advertisement, and noticed a strange box full of black and white pixilation, you likely have seen a QR code. The phrase "QR code" stands for Quick Response Code. These new barcodes are readable by both barcode scanners and camera phones. Although they are currently much more popular in Japan, the form of advertising via QR codes is beginning to quickly catch on in other parts of the world, including Canada and the United States.
QR Code Generator

How It Works
1. Choose what you want the QR Code to do and fill in the information...

URL - Takes the user to a specific website. Enter the URL here.
Message - Generates a message for the user to read... similar to a text message. Just type what you want the message to say.
Phone - Enter a phone number here. The user's phone will call it.
SMS - Enter the SMS number and the text message. The user's phone will send a text message.
Email - The user's phone will send an email. Enter the to address, subject, and body.

2. Click submit to generate the QR Code. Right click on the image and click "Save Target As.." to save it to your computer.

3. Put it anywhere you can, like business cards, pizza boxes, table toppers, brochures, and even signs!

Where can I use QR Codes?

- Websites

- Email signatures

- Business cards

- Front doors

- Post cards

- Magnet on the back of your car

- Email Newsletters

- TV Commercials

- Billboards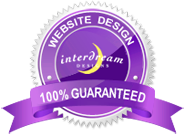 What Clients Say
"Nina's stellar creativity as a web designer was nothing short of phenomenal as evident in the ingenious design concepts presented throughout the term of the project. We were simply amazed with the special touches she added within our own website's revision, as if it were simply a "work of art"."
- Brenda Lopez, Affluent Bride
"Nina is divinely talented with exquisite style and flair, following her deepest intuition and connection. She has blessed me with a great design. She delivers what she promises with tier one results!"
Elizabeth Lengyel
People Coach
Guelph, Ontario, Canada
"Nina, thank you for making such a daunting task into such a wonderful experience.  Your step-by-step guidance along with your patience and creativity have resulted in a website that captures the essence of who I am and the message I want to convey to the world;  all without me ever actually having the pleasure of meeting you in person. "
With gratitude,
Elaine Turner
Pawsitive Connections
Newmarket, Ontario, Canada
"Nina's skill and creativity in web design is only surpassed by her patience and mentoring. As "Social Media Newbies," we had no idea how or where to begin in launching our Gem Health Care Halton website. Nina took us by the hand and guided us through the process with dignity intact! Our new website is clean, easy to manoeuvre, and showcases what we do and who were are. We will work with her again!"
Ginger Quinn
Gem Health Care Halton
Oakville, Canada