Search Engine Optimization

-

The Key to Increasing Traffic to your Website
Statistics show that businesses appearing on the first 2–3 pages of a search engine's results are the businesses that get the most attention. Those appearing lower down on the search rankings are often ignored...which is why it's absolutely vital to put effective techniques to makes your website search engine friendly so your website appears within the first 3 pages.
What is Search Engine Optimization?
SEO is the optimization of your website for certain keywords so that it ranks higher in the search engines results pages (SERPs) produced by a search in Google, Bing, or other search engines.
Why you need traffic from Search Engines?
Customers don't use the phone book anymore to look for businesses. Instead they use search engines like Google and Bing. Traffic from search engines is considered one of the best and most affordable ways to generate traffic to your site. Your website should be optimized to bring you the most traffic possible. It doesn't matter what you're selling—you must bring in higher amounts of  targeted visitors if you want to increase profitability, and a top ranking on a SERP essentially guarantees higher traffic.
Getting your website listed in the major search engines is an absolute necessity.
When your visitors type your keyword phrase in a search engine, you want your website to show up in the top 10 search engine results. Period.
When people search, they look mainly at the first 10 sites that the search engine displays, and the higher rankings your site gets, the more traffic you will get.
InterDream Designs gets your website top placement with the search engines. We do this with a proven strategy that will optimize your webpage, so it's your site at the top of those search listings, and not your competitor's. Order our search engine placement services, and we'll turn your site into a traffic magnet!

Here's what one client has to say about our search engine optimization services:
"We have been working with Nina over the past couple of years and we see noticeable results with her SEO work.  Several families who live far from Canada said they found us through Google, and were using our targeted key words! Thanks Nina!"
- Megan Snape, Glen Bernard Camp, www.gbcamp.com
What our search engine optimization services can do for your website?
| | |
| --- | --- |
| · | We determine your needs by analyzing your website, your business and your competition. We will run a free ranking report to show you where your website currently stands - it's weaknesses and strengths. Get your free Search Engine Optimizaton Analysis Report now! |
| · | Researching the correct keywords is the key to getting high rankings. If your business is not associated with the right keywords, potential customers will not find you. We conduct an extensive keyword analysis for your website to identify the keywords that will bring the targeted traffic you need. |
| · | Once we find the most popular keywords for your website, we will optimize your website by placing keywords strategically on your web pages, including the title, meta tags and alt tags. We will also clean up HTML code on your Web pages and generate an XML sitemap. |
| · | After your website is optimized, we start building incoming links to your site through article submissions, social bookmarking, press releases and google maps. |
| · | A monthly performance report will be sent to you showing the increase in rankings, so you can see the results achieved every month. |
Our search engine strategy offers you the most cost-effective way to move your online business forward. Get top search engine placement, so you can grow your business and put the power of Google to work for you! Get your free Search Engine Optimizaton Analysis Report now!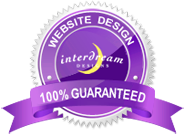 What Clients Say
"Nina's stellar creativity as a web designer was nothing short of phenomenal as evident in the ingenious design concepts presented throughout the term of the project. We were simply amazed with the special touches she added within our own website's revision, as if it were simply a "work of art"."
- Brenda Lopez, Affluent Bride
"Nina is divinely talented with exquisite style and flair, following her deepest intuition and connection. She has blessed me with a great design. She delivers what she promises with tier one results!"
Elizabeth Lengyel
People Coach
Guelph, Ontario, Canada
"Nina, thank you for making such a daunting task into such a wonderful experience.  Your step-by-step guidance along with your patience and creativity have resulted in a website that captures the essence of who I am and the message I want to convey to the world;  all without me ever actually having the pleasure of meeting you in person. "
With gratitude,
Elaine Turner
Pawsitive Connections
Newmarket, Ontario, Canada
"Nina's skill and creativity in web design is only surpassed by her patience and mentoring. As "Social Media Newbies," we had no idea how or where to begin in launching our Gem Health Care Halton website. Nina took us by the hand and guided us through the process with dignity intact! Our new website is clean, easy to manoeuvre, and showcases what we do and who were are. We will work with her again!"
Ginger Quinn
Gem Health Care Halton
Oakville, Canada