I have used the services and products below and highly recommend them.
Autoresponder/Newsletter Service
Aweber provides list management and autoresponders. Aweber's email marketing tools make it easy for you to create professional signup forms for your website, build your email list and send out newsletters.
Shopping Cart
1ShoppingCart is great for selling products, maintaining an email list and autoresponders.
Beautiful Web Design Books
Some of my favourites are:
1. Principles of Beautiful Web Design
2. Sexy Web Design
3. Photoshop Anthology
4. Build Your Own Standard Compliant Website
5. The Art & Science of CSS
6. HTML Utopia: Designing without Tables Using CSS
7. Email Marketing
8. The Web Design Business Kit
9. The Search Engine Marketing Kit
The above books are available at Sitepoint
1. The Non-Designers Web Book - Robin Williams
2. The Non-Designers Type Book - Robin Williams
3. The Non-Designers Design Book - Robin Williams
4. Don't Make Me Think - Steve Krugg
Marketing
Robert Middleton of Action Plan Marketing has a free Marketing Plan Start-Up Kit you may want to get.
The InfoGuru Marketing Manual and Website Toolkit are highly recommended, especially if you have a website or
are planning to have one.
Blogging
There are many different options available for blogs. WordPress is the most popular one. It is supported by a great
online community.
If you are looking for something easier to set up, you may want to use Blogger.
Website Tools
Email address encoder encodes your email address to prevent spambots from harvesting your email address: http://www.wbwip.com/wbw/emailencoder.html

Search Engine Optimization Tools
Add keyword rich tags on tags web page

Sitemap generator - http://www.rorweb.com/rormap.htm
Back link checker http://www.iwebtool.com/backlink_checker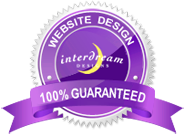 What Clients Say
"Nina's stellar creativity as a web designer was nothing short of phenomenal as evident in the ingenious design concepts presented throughout the term of the project. We were simply amazed with the special touches she added within our own website's revision, as if it were simply a "work of art"."
- Brenda Lopez, Affluent Bride
"Nina is divinely talented with exquisite style and flair, following her deepest intuition and connection. She has blessed me with a great design. She delivers what she promises with tier one results!"
Elizabeth Lengyel
People Coach
Guelph, Ontario, Canada
"Nina, thank you for making such a daunting task into such a wonderful experience.  Your step-by-step guidance along with your patience and creativity have resulted in a website that captures the essence of who I am and the message I want to convey to the world;  all without me ever actually having the pleasure of meeting you in person. "
With gratitude,
Elaine Turner
Pawsitive Connections
Newmarket, Ontario, Canada
"Nina's skill and creativity in web design is only surpassed by her patience and mentoring. As "Social Media Newbies," we had no idea how or where to begin in launching our Gem Health Care Halton website. Nina took us by the hand and guided us through the process with dignity intact! Our new website is clean, easy to manoeuvre, and showcases what we do and who were are. We will work with her again!"
Ginger Quinn
Gem Health Care Halton
Oakville, Canada