Do you need constant updates to your website?
Do you want to get rid of dead links and out-of-date content?
Do you want to lower your Web maintenance costs?
Do you want to manage your Web content easily?
If you answered yes to the above questions, then you need a Content Management System
What is Content Management System?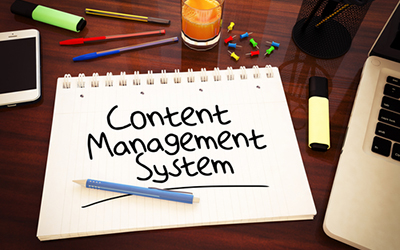 Content Management System (CMS) is an application for managing the content of a website effortlessly. It helps business owners and employees maintain a professional-looking site without having to learn html code. CMS is ideal for sites that require ongoing updates and additions.
What are the benefits of using CMS?
1. It provides Web Access to Web page content directly to Businesses:
With CMS, the owner/employee can access parts of their site and publish them directly to the website. You can make all the changes you want, without risking your website layout. You can update content from any computer connected to the internet.
2. Easy to use
CMS gives you the ability to edit or update your site easily. CMS has a very easy and intuitive interface (comparable to Microsoft Word) which makes it user friendly.
3. Cost Effective
CMS frees your site of budget constraints and out-of-date content thus lowering costs by saving on employee-hours or outsourcing the job.
4. No technical skills required
Anyone with even very basic PC user knowledge can use CMS. Non-technical business owners can edit and publish web content from any web browser without the need to know html.
5. Faster updates
It allows for faster updates of Web pages and the website stays current. In today's competitive online market, up-to-date information is important to your business' success and credibility. It's quick – updates are seen immediately.
6. Standardization
A key advantage of CMS is that the design of your site is protected while giving enough freedom to edit certain areas of the website. Therefore, the "look and feel" of your site is protected. This guarantees more standardization across the site.
7. Search Engine Friendly
Updating your site often makes it search engine friendly – search engine spiders visit frequently updated sites regularly, and search engines value "fresh" content.
It is obvious that the implementation of CMS is ideal for websites. CMS combines the convenience of ease-of-use along with the professionalism of clean Web design and up-to-date information on your website.
"I simply love my new website Nina! And the Content Management System is so easy to use and to manage my entire website on my own, with my very basic skills. I feel that I have total control over the content of the site! It was completely worth it, and I thank you for your talent, your patience, and your strong work ethics in providing only what is best for your clients!"
~ Shiri Joshua


Why choose our Content Management System?
It's simple to use, yet powerful enough to drive any type of website. You can test it yourself. Contact us today at nina@interdream-designs.com.
Interdream Designs also provides the following small business website design and development services:
· Small business website design and development
· Small business website design and hosting
· Content Management System
· Ecommerce website design
· Newsletter Design
· Database Management
· Blog Customization