Professional, Custom Website Design Services for Women Small Business Owners
When the time comes to hire a new Web site design company, there are two things you'll want to do first.
(1) Review examples of professional Web site designs they have created, and
(2) Be sure they offer a complete list of custom Web site design services.
You can see our online web design portfolio here. You can also review the full line of design and design-related services we offer below.
Successful, Professional Website Designs Start With A Plan of Action
You need someone who will listen to you, pay attention to your requirements and stay within budget. As a professional and experienced Web site design company, we will take the time to develop an action plan specific to your goals. Then we'll set it into motion so your site can start working for you like never before. [Read more about Professional Web site Design for Women-Owned Businesses.]
Small Business Website Hosting
In addition to custom Web site design services, you can also take advantage of web hosting with an average uptime of 99.8%, reasonable prices and all the features you could want. [Read more about Small Business Website Hosting Services.]
eCommerce Website Design
Company research shows that shopping carts which are too complicated cost you sales! With InterDream Designs, you can rest assured that your ecommerce Web site will allow your customers to find products easily. Checkout will be quick with integrated shopping carts and payment gateways. They are also simple for you to administer with interfaces that enable you to quickly add, edit and delete items. [Read more about Ecommerce Website Design.]
Content Management System
Fresh, up-to-date content is one of the keys to a successful Web site. Now it's easier than ever to have direct control over your Web site. With a password-protected user-friendly administrative interface you can login anytime to add, edit or delete content. We can also set up your site on WordPress, Joomla or Drupal so you can update it. [Read more about our Content Management System.]
Search Engine Optimization (SEO)
Many Web site design companies only make your site look good. And that's wonderful. But what good is a site that nobody can find? That's where the science of search engine optimization (SEO) comes in. There are a zillion websites on the Internet. When someone types in words related to your site, do you want to show up at number one million or #1? Using up-to-date techniques, your site can be positioned at the top of the most popular search engines. If you want to succeed on the 'Net, your pages need to be properly optimized by a professional Web site design company with proven experience in SEO. [Read more about our Search Engine Optimization Services.]
Complete Website Maintenance
Don't have the time or skills to update your own site? No problem! In addition to custom Web site design services, you can also sign up for Web site maintenance. You'll never have to worry about the techie side of things again. Here is what Web site maintenance includes:
- checking and updating broken links
- changing dates, times and places to make sure your site is current
- adding new content
- ensuring your site stays optimized for search engines
- other routine chores
eNewsletter Design
Newsletters (also called ezines) are the face of your business. Each time your newsletter goes out, you're making an impression on your customers and prospects. People buy packaging, which is why the design of your newsletter is so vital. As a web design company, we are also well equipped to carry your site design over to your newsletter. By keeping a constant image you can improve your branding, shore up your company image and put your best foot forward each time you contact your subscribers. [See our portfolio of Newsletter Designs].
Graphic Design
Custom design elements can make your site all the more attractive. From logos to custom navigation buttons and so many other graphic design touches, we'll create a site you can be proud of.
Flash Web Design
Flash designs are excellent for product demos, presentations, creating interest with moving elements on your page and more. Contact us today for more details about custom Flash designs.
WordPress Blog Customization
Want your blog to look like your Website? We can customize it for you. Read more about our WordPress Blog Customization Services.
Website Redesign
Are you dissatisfied with your current Website design? Perhaps you have a Web site that is old and outdated and needs to be redesigned. We redesign many sites like that for our clients.
Our Web Design Guarantee
InterDream Designs has built a reputation on giving our clients exactly what they need. That's why we back all of our professional Web site design services with a 100% satisfaction guarantee. In the rare event that you are not completely satisfied with our work, we will continue to make revisions or offer new design options until you are thrilled with the outcome.
Find out how you can get started. Call us now at 416-250-1380 or email us at nina@interdream-designs.com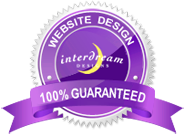 What Clients Say
"Nina's stellar creativity as a web designer was nothing short of phenomenal as evident in the ingenious design concepts presented throughout the term of the project. We were simply amazed with the special touches she added within our own website's revision, as if it were simply a "work of art"."
- Brenda Lopez, Affluent Bride
"Nina is divinely talented with exquisite style and flair, following her deepest intuition and connection. She has blessed me with a great design. She delivers what she promises with tier one results!"
Elizabeth Lengyel
People Coach
Guelph, Ontario, Canada
"Nina, thank you for making such a daunting task into such a wonderful experience.  Your step-by-step guidance along with your patience and creativity have resulted in a website that captures the essence of who I am and the message I want to convey to the world;  all without me ever actually having the pleasure of meeting you in person. "
With gratitude,
Elaine Turner
Pawsitive Connections
Newmarket, Ontario, Canada
"Nina's skill and creativity in web design is only surpassed by her patience and mentoring. As "Social Media Newbies," we had no idea how or where to begin in launching our Gem Health Care Halton website. Nina took us by the hand and guided us through the process with dignity intact! Our new website is clean, easy to manoeuvre, and showcases what we do and who were are. We will work with her again!"
Ginger Quinn
Gem Health Care Halton
Oakville, Canada