We respect your right to privacy. Please review the following Policies that govern use of the site and that protect Users' privacy.
By using this site, you agree to the terms of this Privacy Policy. We reserve the right, at our discretion, to modify it at any time. Please bookmark, and/or review this page from time to time.
As with all websites, each request for a file is recorded by our Web server in a log file. We use this file only to calculate overall site usage statistics, not to identify or track any individual user.
Personal information refers to information specifically about who a User is, such as your name, age, address, e-mail address or telephone number.
The only personal information we may retain is what is provided voluntarily by you when you, for example, sign up for our e-newsletter or contact us with questions or comments about the website. We use this information to send you information about InterDream Designs, its services, or correspond with you regarding your subscription. Your personal information when you subscribe to our Newsletter is completely private and it remains completely private. We absolutely and positively do not share personal information obtained about our users with any other parties. InterDream Designs will not sell, distribute, barter or transfer any personal information
If you have any questions or concerns about privacy on this site, please contact nina@interdream-designs.com.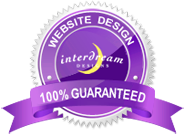 What Clients Say
"Nina's stellar creativity as a web designer was nothing short of phenomenal as evident in the ingenious design concepts presented throughout the term of the project. We were simply amazed with the special touches she added within our own website's revision, as if it were simply a "work of art"."
- Brenda Lopez, Affluent Bride
"Nina is divinely talented with exquisite style and flair, following her deepest intuition and connection. She has blessed me with a great design. She delivers what she promises with tier one results!"
Elizabeth Lengyel
People Coach
Guelph, Ontario, Canada
"Nina, thank you for making such a daunting task into such a wonderful experience.  Your step-by-step guidance along with your patience and creativity have resulted in a website that captures the essence of who I am and the message I want to convey to the world;  all without me ever actually having the pleasure of meeting you in person. "
With gratitude,
Elaine Turner
Pawsitive Connections
Newmarket, Ontario, Canada
"Nina's skill and creativity in web design is only surpassed by her patience and mentoring. As "Social Media Newbies," we had no idea how or where to begin in launching our Gem Health Care Halton website. Nina took us by the hand and guided us through the process with dignity intact! Our new website is clean, easy to manoeuvre, and showcases what we do and who were are. We will work with her again!"
Ginger Quinn
Gem Health Care Halton
Oakville, Canada