If your site is looking old and outdated, it's time for a website makeover. The content on your site may need to be changed so your site doesn't appear abandoned or stagnant.
Below are some reasons your site need a redesign:
- you are not getting the results you want from your website
- the design looks outdated and is harming your business image
- your website stats show that you are not getting enough visitors
- you have additional products or services to add to your site
- you would like to add an online store on your site
Would you like a free Website Makeover Consultation? Send us your URL.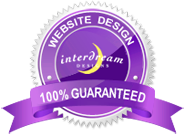 What Clients Say
"Nina's stellar creativity as a web designer was nothing short of phenomenal as evident in the ingenious design concepts presented throughout the term of the project. We were simply amazed with the special touches she added within our own website's revision, as if it were simply a "work of art"."
- Brenda Lopez, Affluent Bride
"Nina is divinely talented with exquisite style and flair, following her deepest intuition and connection. She has blessed me with a great design. She delivers what she promises with tier one results!"
Elizabeth Lengyel
People Coach
Guelph, Ontario, Canada
"Nina, thank you for making such a daunting task into such a wonderful experience.  Your step-by-step guidance along with your patience and creativity have resulted in a website that captures the essence of who I am and the message I want to convey to the world;  all without me ever actually having the pleasure of meeting you in person. "
With gratitude,
Elaine Turner
Pawsitive Connections
Newmarket, Ontario, Canada
"Nina's skill and creativity in web design is only surpassed by her patience and mentoring. As "Social Media Newbies," we had no idea how or where to begin in launching our Gem Health Care Halton website. Nina took us by the hand and guided us through the process with dignity intact! Our new website is clean, easy to manoeuvre, and showcases what we do and who were are. We will work with her again!"
Ginger Quinn
Gem Health Care Halton
Oakville, Canada